U.S. Aircoach Curtiss C-46 N4860V (c/n 30240)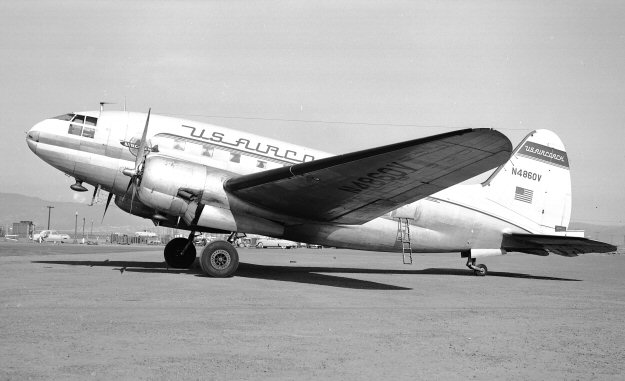 U.S. Aircoach was founded in 1949 by Louis Powell and Wyman Reynolds. It offered low fare
irregular scheduled coast-to-coast flights and also, at one time, served Hawaii. (The one-way
fare from Oakland to Honolulu was $119.00). Like many nonskeds it was often cited by the
CAB for offering flights over and above the twelve per month permitted irregular carriers. The line
later gained military passenger and cargo charter contracts. In addition to C-46s U..S. Aircoach
also operated DC-3s and DC-4s. Bill Larkins' shot above was taken at Oakland in January 1953.
N4860V was a former C-46A-45-CU originally civilianized for Flying Tiger in 1952. U.S. Air-
coach leased it in the 1952-53 period before it went on to Interior Airways.