Interior Airways Curtiss C-46 N4860V (c/n 30240)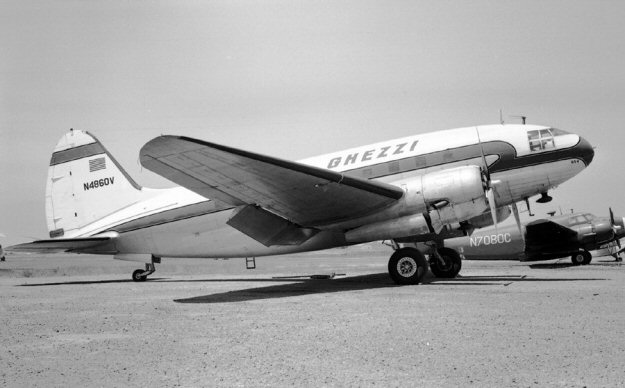 This photo is something of a mystery. It was taken by Larry Smalley at Oakland in July 1959.
N4860V was owned, at the time, by Interior Airways. This company was formed in Fairbanks,
Alaska in 1946. It flew psuedo-scheduled and charter services throughout Alaska with C-46s
and DC-3s. There operated, in Alaska, at about that time, an Al Ghezzi who owned a company
named Alaska Freight Lines. They had contracts with the U.S. Army associated with the building
of the DEW line. It is possible, therefore, that this Interior C-46 had been leased to Ghezzi when
this shot was taken, and maybe to impress the Army he had his name painted on. Certainly the
aircraft has the same livery as used by Interior at the time. Interior Airways was renamed Alaska
International Air in 1972 and upgraded their equipment to Lockheed L-1049 and L-100s (civil
Hercules). It was renamed (again) in 1984 as Mark Air and then began intra-Alaska flights with
Boeing 737s. These expanded to the lower 48 in the early 1980s and in 1994 it relocated to
Denver, CO. The airline went bankrupt in 1995 due mainly, to Alaska Airlines canceling its code-
sharing agreement with Mark Air.