South East Airlines Curtiss C-46 N4761C (c/n 30465)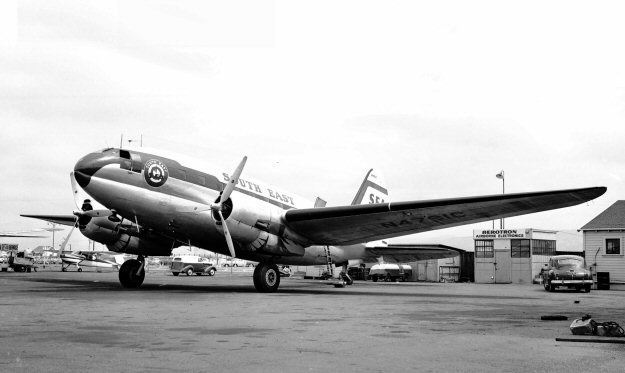 A South East Airlines was started circa 1945 by Bill and Buck Teaque as a scheduled intra-state
airline based in Charlotte NC. This went bankrupt somewhere around 1947 and was restarted
under the same year around 1948. This C-46 is from the reborn company. Bill Larkins took
the above shot at Oakland in June 1955. They garnered some military contracts and possibly
also flew low fare passenger irregular schedules. They had some sort of operating co-operation
with Peninsular Air Transport of Miami, and in fact that other company's name appears in small
titling on the nose of this C-46. There was a proposal at one time to merge the two companies.
In addition to this C-46 South East also flew at least one DC-3 and a DC-4. The aircraft seen
above, a former C-46A-50-CU (ex 42-96803) had been civilianized for Transandina Ecuador in
1948 as HC-SIA. It was only with them for three months and then returned to the US in June
1948 as N4761C for Wien Alaska Airlines. After a year with Wien it then had several different
owners up until 1952 when it was purchased by Peninsular. An image of it in Peninsular Air Transport
livery appears in that entry. However, at the time that this photo was taken the aircraft was registered
to Aero Maintenance Inc. and was possibly under lease to South East. In February 1956 it went to
Southern Aeronautics. It wound up in 1960 with Lidca Columbia as HK-612 and was wfu in 1967.