California Eastern Airways Douglas DC-4 N1437V (c/n 10403)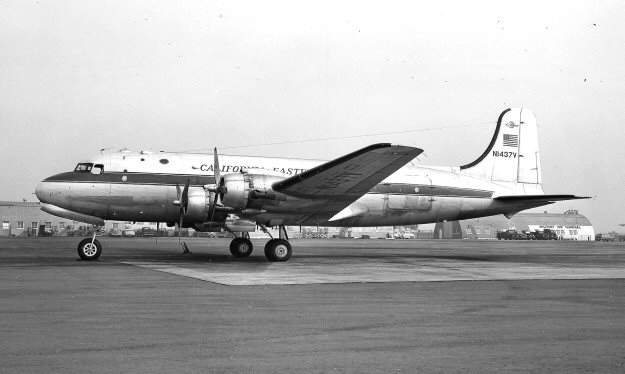 California Eastern was founded by Jorge Carnicero in 1946, based primarily in Burbank, although
the above shot was taken at Oakland in 1956. It originally began operations as a scheduled cargo
carrier. Two years after being organized, California Eastern Airways, although being the second
largest independent air carrier, filed for bankruptcy in May 1948, and its assets were acquired by
Slick Airways. The remnants of the line were then purchased by Land-Air, Inc. (which was later
renamed DynCorp) who reformed it as California Eastern Aviation, but flew under the old California
Eastern Airways title It later gained military cargo and passenger contracts from California (mainly
Oakland) to the Far East, and at one stage Convair CV-880s were envisaged.. Some notes I have
indicate it flew supply runs during the Korean War. Anyway, by 1962 the CEA identity had been
dropped and the company was known as the Dynalectron Corporation. As such it is still extant
although no longer runs air services, being a conglomerate of companies employed in a wide variety
of sciences.
N1437V was an ex C-54A-15-DC built for the USAAF in 1944 as 44-72298. Civilianized in
1947 it went to Pan American as their N88914 'Clipper Golden Eagle", then in 1950 to Alitalia
as I-DALZ, then to REAL as PP-XEF before being acquired by CEA in 1954. It later passed to
sister company California Hawaiian before going to Liberia as EL-ADS. To pursue its career
further for the context of this entry would be academic, but suffice it to say that the poor old thing
met its end when it crashed into a mountain near Saravena, Arauca, Colombia on 30 August 1975.