I-DALZ Douglas DC-4 (c/n 10403)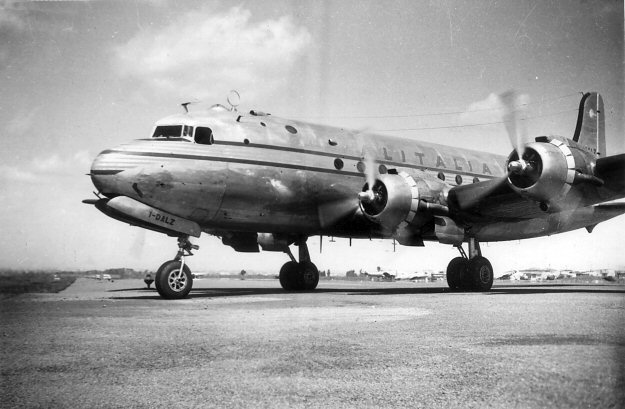 Another Alitalia "nose only" shot. Fortunately this one can be identified by the rego on the nose
wheel door since the name

"Citta de Roma"

either no longer shows, or hadn't been painted on
when this shot was taken. Probably the latter, since it looks like it had just arrived from Pan Am
(ex N88914

"Clipper Golden Eagle"

) insofar as the PanAm "winged globe" is still visible on the
nose. This aircraft had equally as varied a career as I-DALU, although I'll forgo all the gory
details in this case. Suffice it to say that it met its end when it crashed into a mountain near Sara-
vena, Columbia on June 30, 175 while serving with Avianca as HK-1309. It was a cargo flight
that had evidently strayed off course. It had departed Cucuta at 18:30 for a flight to Tame. The
aircraft was last heard from passing Saravena at 2000 feet. The wreckage was found two days
later in the foothills of the Cordillera at an altitude of 2300 feet. The crew of three were killed.