Aero Commander 1121 Jet Commander HB-VBX (c/n 74)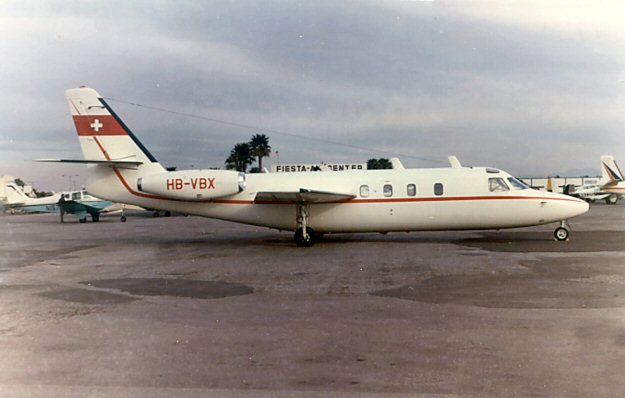 Design of the jet powered Aero Commander first began in 1961. This early example was a
1966 model and, as such, was produced by the Aero Commander Division of Rockwell Inter-
national, later to become a Division of North American Aviation. Since North American was
already producing the Sabreliner this became a slight problem (some overtones of anti-trust
laws started rearing their head - although I don't know why: lots or manufacturers produce
more than one jet). Whatever. In the event, the manufacturing rights to the Jet Commander
were sold off to Israeli Aircraft Industries in 1967. (Both the FAA and Airliners.net refers to
it as

Israel

Aircraft Industries - wouldn't you think they'd get it right?) Production then contin-
ued with the Model 1123/1124 and the name changed to Westwind. The aircraft above had
a rather checkered career. It was delivered as N6513X. It was then sold to Switzerland as
HB-VBX. My shot shows it at Santa Monica in 1966 just after application of the European rego.
I am not sure how long it stayed in Switzerland (not long) and was then repatriated as N33GL.
It became N222GL and had a mechanic's lien thrown on the hull for some unpaid mantenance
bills (which action was then thrown out by the courts) after which it was re-registered N222HM.
My trail grows cold after it became N200LF and its ultimate fate is unknown.