Texas International Airways McDonnell Douglas DC-9-32 N521TX (c/n 47521)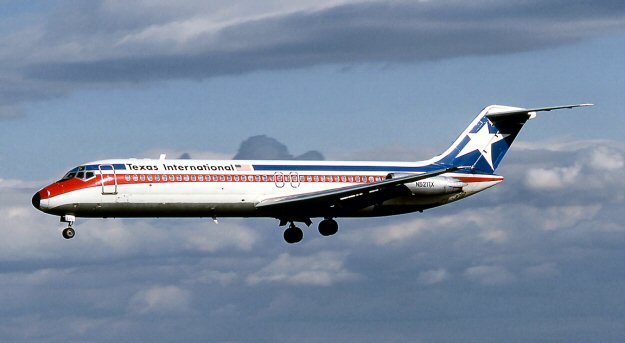 It is only appropriate that the last shot I show of a TIA aircraft is this Bob Garrard image of a DC-9
landing into the sunset at Baltimore/Washington International in November of 1982. The line had
put the slightly larger series 30s into operation at the end of the 1970 decade. In 1982 the holding
company of the airline, Texas Air Corporation, took over debt-laden Continental Airlines in what,
in essence, was another "tail wagging the dog" business coup. Texas Air Corporation had been
founded by corporate raider Frank A. Lorenzo as a subsidiary of his Jet Capital Corporation.
Unless you have an MBA from the Harvard Business School (which Lorenzo did) it is extremely
difficult to unravel the financial shenanigans which were pulled. The net result, however, was that
Texas International Airlines was dismantled and absorbed into the larger Continental Airlines, retain-
ing the more widely known name of the latter airline. Most of the TIA fleet wound up in Continental
uniforms, N521TX being one of them. (See the entry for the Continental Airlines DC-9-32).
Although the official take-over date was October of 1982, clearly this one had not been re-liveried
at that the time Bob took this nice photograph..