Southern Airways McDonnell Douglas DC-9-31 N 1798U (c/n 47369)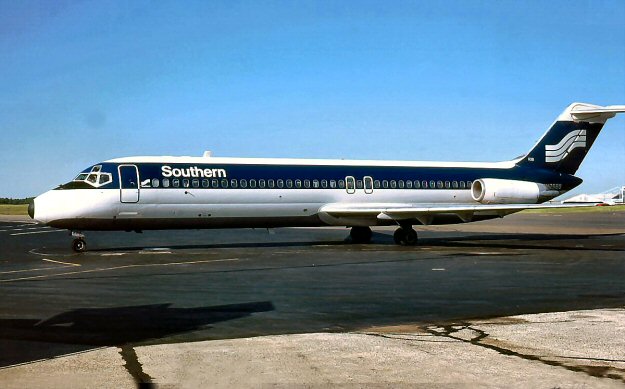 In 1971 Southern placed an order for three stretched DC-9 series 30 airliners. This initial order was
later expanded to include ten of this type, although two were lost in accidents. One, N1335U, was
involved in a rare accident wherein the aircraft ingested so much water from a thunderstorm that it
experienced flame outs on both engines. It was operating Fight 242 from Huntsville-Atlanta on
4 April 1977 when it entered a severe thunderstorm at 17,000 feet. Neither engine could be restarted
and the aircraft made a forced landing on State Spur Highway 92 at New Hope, Georgia. The crash
killed 63 of the 85 souls on board. In 1972 Southern devised a new livery and N1798U is seen
(above) sporting it in this nice shot by Ellis Chernoff on the ramp at Charlotte's Douglas International
Airport in May of 1978. Southern Airways merged with North Central Airlines on 1 July 1979, the
resultant line being named Republic Airlines. The combined route system of both companies met at
eleven different points, although there were no duplicate routes. The headquarters of the new line was
in Minneapolis.

.