Republic Airlines Convair 580 N7517U (c/n 13)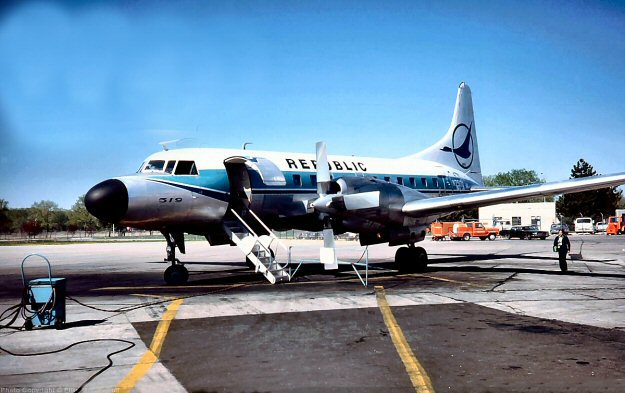 Republic Airlines was founded on 1 July 1979 as the result of a merger between North Central
Airlines and Southern Airways. Since the dominant airline was North Central the head office of
the new company was in Minneapolis. For the first year or so the Convair 580s (which all came
from North Central anyway) retained their old livery, only the cabin top title being changed.
"Herman the Goose" remained large on the fin and rudder. The above shot is from the Ellis M.
Chernoff collection and was taken at Omaha's Eppley Field in May of 1980 By the early 1980s
the livery scheme had undergone a change and Republic developed an image of its own. The shot
below, also taken by Ellis, shows the final Republic Airlines paint job on the same aircraft at Wold
Chamberlin Field, Minneapolis in 1986. N7517U was actually quite an ancient machine by then,
having been first built as a Convair 340 in 1953 for the Texaco Oil Company as N1621. It then
went to Canada as CF-TCL before going to North Central in 1965. It was converted to 580 status
(probably by General Dynamics) in 1967.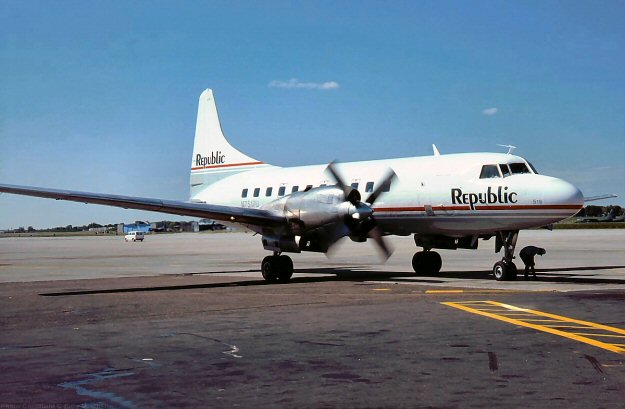 .