Pan American Airways Boeing 707-121 N710PA (c/n 17589)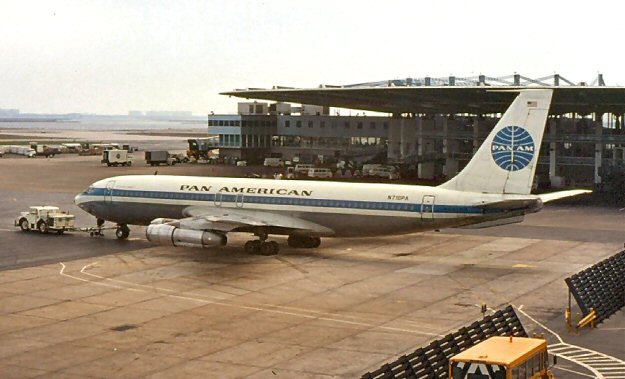 This is the aircraft which, quite literally, changed the way the public thought about air travel.
From the piston engined days when it was both expensive, noisy and time consuming, came the
jets with their huge capacity, which were able to lower fares and deliver passengers across oceans
in a fraction of the time and cost . Jet travel became available for just about everybody. Pan
American was the launch customer for the Boeing 707 having ordered 20 (along with 25 Douglas
DC-8s) off the drawing boards in 1955. They were put into service in the fall of 1958, although it
really wasn't until the long range model (-321) became available that they were used for international
services.. This shot of "Clipper America" was taken by John F. Ciesla at New York's JFK Airport
in 1967, the aircraft originally having been delivered back in September of 1958.