Pacific Northern Airlines Lockheed L-749A Constellation N1552V (c/n 2505)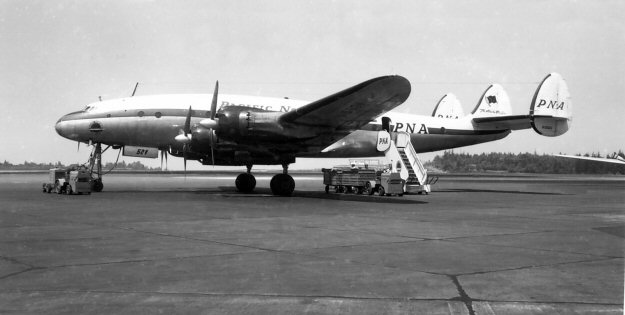 In 1967 PNA merged with Western Airlines. Some ten years prior to that event the airline
had acquired a number of Lockheed Constellations, one of which is seen here at SEATAC
in the early1960s. This machine was an original TWA model but PNA purchased it from
BOAC where it had been G-ANTG. Ron Cuskelly has a history of it on his fabulous Australian
"Lockheed File" site at http://www.adastron.com/lockheed/constellation/vh-eae1.htm
Western continued to fly them for a year or so after the merger. N1552V was then donated
to the City of Kenai, Alaska, in 1969 but a Connie is a very expense thing to maintain, even as
a static exhibit, and hence it was sold to a private buyer who intended to convert it into a restaurant.
In the event the project fell through and N1552V was broken up.