Ozark Air LInes McDonnell Douglas MD-82 N950U (c/n 49230)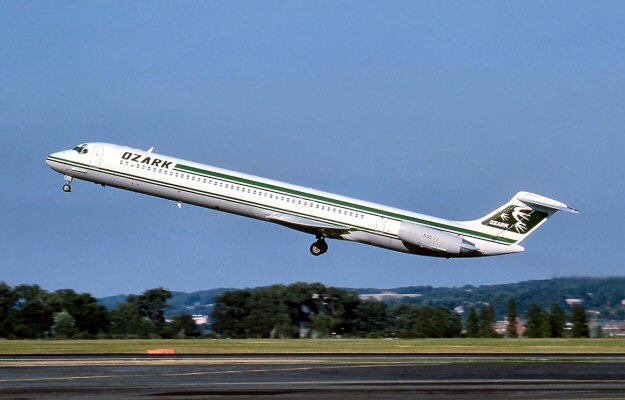 By the time Ozark entered its fourth decade of service it had become an "all DC-9" carrier, having
retired its FH-227Bs. In 35 years Ozark had developed from a Local Service carrier flying DC-3s
to a coast-to-coast operation, (albeit based in St. Louis and not offering non stop flights) flying
DC-9s. Its last new equipment purchase was in the form of four MD-82s (it also had 4 on order)
one of which is seen climbing away from Washington, D.C.'s Ronald Reagan National Airport in
this Bob Garrard shot taken in July of 1985. I always thought the MD-80s rotation angle always
seemed to be "to the limit" but I think that is because its almost 150 ft overall length gives that
impression. Anyway, in early 1986 an agreement was entered into whereby Ozark Air Lines,
with its 4000 employees and 50 aircraft would merge with Trans World Airlines. Although challenged
by the US Justice Department (such a merger would control 75% of the gates at St. Louis Lambert
Field Airport) the deal went through and the green liveried Ozark aircraft would be seen no more.