Northeast Airlines Douglas DC-4 NC 88852 (c/n 3123)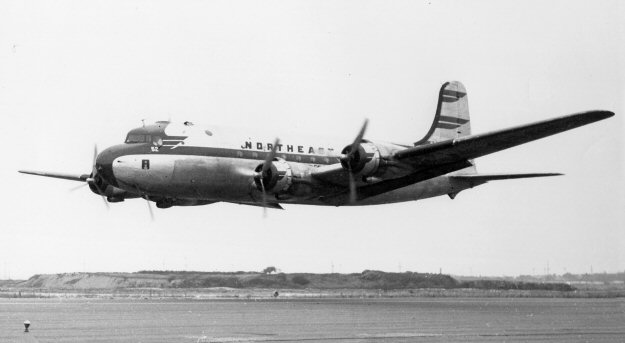 Northeast only operated four DC-4s. NC88852, seen here departing Logan Airport, circa
1949 was acquired from Capital Airlines. They were used mostly on the Boston to New York
route where greater capacity than that which the Convairs could offer was urgently needed.
When this specific aircraft's scheduled airline days were done it was operated by several non-
scheduled carriers. Whilst with Los Angeles Air Service in 1951 this aircraft was leased to
Continental Airlines for a year. Later, when flying for Peninsular Air Transport, it suffered
an engine failure on climb out from Boeing Field, Seattle in November of 1955. The pilot tried
unsuccessfully to feather the prop, and the resultant drag caused the aircraft to crash into a
populated area surrounding the field. 28 of the 74 souls on board perished. Inadequate maint-
enance was given as the probable cause of the disaster.