Continental Airlines Douglas DC-4 N88852 (c/n 3123)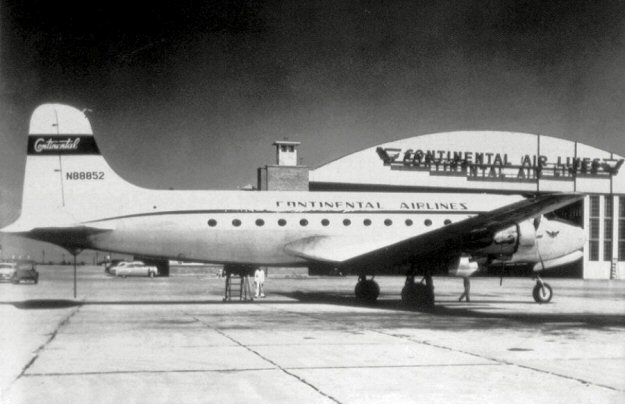 Continental was never a "main-line" user of the DC-4, preferring, instead, to use Convair 240/340s
on their rather short stage routes. They did, however, operate at least one of them, as seen above
in this historic shot from the Gil Bliss collection, showing N88852 outside the hangar at Stapleton
circa 1951.. This ex C-54-DO began its airline life with Pennsylvania Central Airlines before going
to Northeast (see my picture of it in NEA livery). In 1950 it wound up with Hawthorne, California-
based Los Angeles Air Service, who leased it to Continental for a year from September 1951 to
September 1952. I suspect it was used as a freighter, but would appreciate confirmation of this,
plus the registration numbers of any other known DC-4s operated by the airline. On 17 Nov 1955,
when flying for Peninsular Air Transport, N88852 suffered an engine failure on climb out from Boeing
Field, Seattle. The pilot tried unsuccessfully to feather the prop, and the resultant drag caused the
aircraft to crash into a populated area surrounding the field. 28 of the 74 souls on board perished.
Inadequate maintenance was given as the probable cause of the disaster.