North Central Airlines McDonnell Douglas DC-9-51 N765NC (c/n 47718)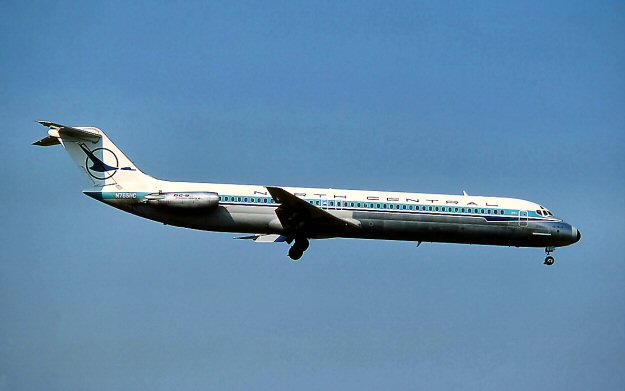 Increased capacity needs led North Central to order 28 new stretched DC-9 series 50s in the mid to
late 1970s. N765NC entered service in late 1976. It is seen here in this nice shot by Bob Garrard
on short finals into Chicago O'Hare International in June of 1977. In 1978 along came deregulation
of the airlines under President Carter. As a result, on July 1, 1979, North Central Airlines and Atlanta-
based Southern Airways merged operations, the resultant airline being known as Republic Airlines, Inc.
Of the 28 series 50 DC-9s ordered, ten had not yet been delivered and were diverted to Republic.
Since NCA was the dominant line in the marriage, headquarters remained at Minneapolis. In the early
days of the new airline the livery was basically North Central's, with title changes. This also included
the perpetuation of the "Herman the Goose" logo. N765NC went on to serve with Republic and also
with Northwest when that carrier gobbled up Republic in 1986.