Monarch Airlines Douglas DC-3 NC64423 (c/n 9251)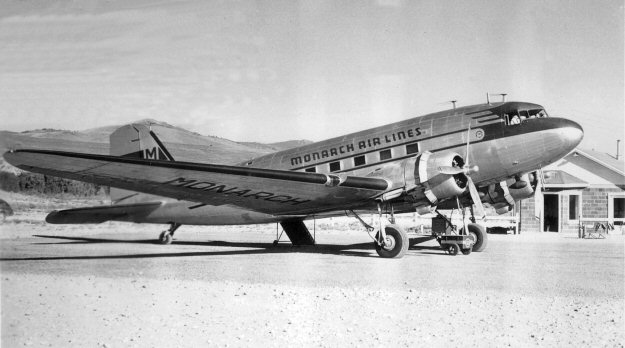 Monarch Air Lines was formed in November of 1946 with a route from Denver to Durango,
Colorado. It soon expanded westward to Salt Lake City and south to Albuquerque, NM.
Durango was a junction point on the system (later changed, under Frontier, to Farmington,
NM) where aircraft continued on (with stops) to Albuquerque, Salt Lake City and Denver.
Hence it was common to see three or more of Monarch's fleet of five DC-3s on the ground
at one time at this remote station, as the panoramic shot below illustrates. In 1948 the airline
teamed up with Challenger Airlines to provide through plane connections and ticketing to the
latter's routes up into Wyoming and Montana. December 1949 saw a complete merger of
the two airlines, with Monarch predominant. In April, 1950 Monarch acquired another small
carrier, Arizona Airways and in June of 1950 changed its name to Frontier Airlines.