Hughes Airwest Boeing 727-2M7 N725RW (c/n 21502)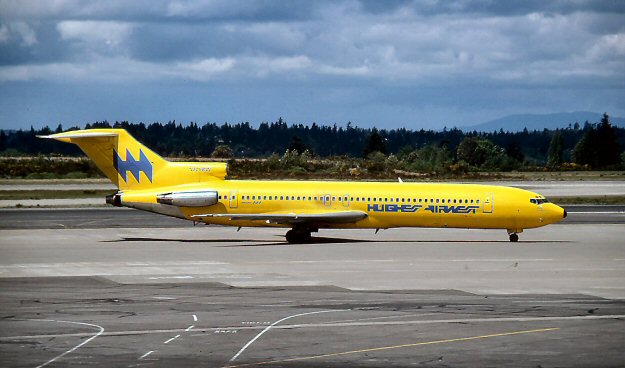 In the mid to late 1970s Hughes Airwest made a number of fleet acquisitions. Included in this
were eleven series 200 Boeing 727s. One of these, N725RW, is seen above in another Mike
Haywood shot, this one taken at Seattle/Tacoma International Airport in May of 1979. By this
time the airline had expanded considerably and served 53 cities over extensive routes in the western
U.S. states and also to Mexico City and into Canada. However, four years after the death of
Howard Hughes in 1976, the airline bearing his name was caught up in the frenzied rash of mergers
following deregulation and was purchased by Republic Airlines, itself only having been formed the
previous year. The "Flying Bananas" ceased to exist on 1 October 1980. Republic itself was to
be swallowed up by Northwest some six years later and many of the Hughes Airwest aircraft
wound up flying for NWA.