General Air Lines Douglas DC-3 NC13731 (c/n 1257)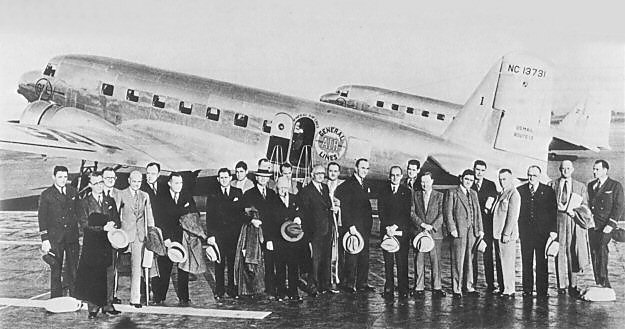 When the U.S. Government cancelled the air mail contracts in February 1934 due to the corruption
which had occurred under Walter Folger Brown's leadership of the Post Office Department, the U.S.
Army began the chore of carrying the mails. Following a disastrous couple of months during which at
least four crashes to military mail planes occurred, President Roosevelt admitted that this was a bad plan
and invited new bids for air mail contracts. However, there were two main provisos for holding a new
contract: One was that manufacturing concerns had to divest themselves of their airline operating
divisions, and the other was that the former companies which had enjoyed the favor's of Brown's
"spoils" could not bid. This led, of course, to a general restructuring of airline corporate papers,
wherein American Airways became American Airlines, Eastern Air Transport became Eastern Air
Lines, etc. Western Air Express, fearing that even the names of its Board of Directors and even the
connotation of the word "Western" would anger the government, chose to float a new airline under
the name of its holding company (General Motors) and bid its contracts under the name of General
Air Lines. Four DC-2s were acquired, two of which are seen above. (Since this was a thinly veiled
disguise of Western Air Express, I am positioning this airline here rather than in its correct alphabetical
place). North American Aviation managed to retain an element of joint operating and manufacturing in
that it held General Aviation (which had purchased Fokker) and Eastern Air Transport. When financier
William A. Coulter tried to purchase General Motors's shares in both Western Air Express and Eastern,
General Aviation forced a liquidation dividend as a condition of sale and General Lines was dissolved.
The DC-2s were absorbed into the Eastern Air Lines fleet and WAE , reduced now to virtually nothing,
became an autonomous company again. Since images of General DC-2s are extremely rare, I am
appending one below (via Douglas Aircraft Corp) even though the identity of the individual aircraft cannot
be ascertained. Incidentally, NC13731 above, went to the Royal Australian Air Force in WW II becoming
A30-12 with call sign VH-CRF.