Eastern Air Lines Douglas DC-7B N802D (c/n 44853)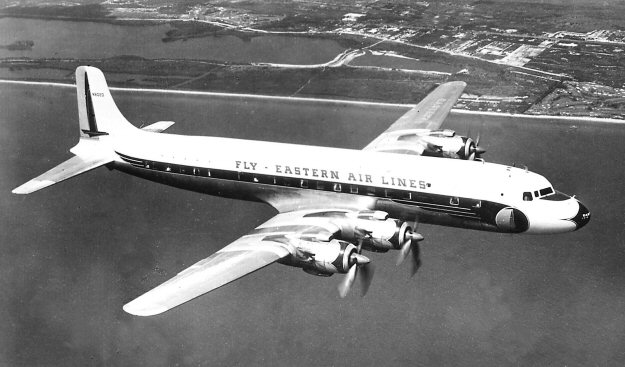 To augment its Super Connies on its long haul routes Eastern also placed an order with Douglas
in 1955 for 50 Douglas DC-7Bs. These large prop-liners flew the first class routes until replaced
with prop-jet Electras, after which they were relegated to Coach services. N802D was delivered
in July of that 1955 and flew with the airline for a decade. It was then sold to California Airmotive
and broken up in 1970. Following an interim 'falcon' livery in the early 1960s, the DC-7Bs, along
with the rest of the fleet, were repainted into the ultimate 'hockey stick' livery in the mid 1960s as
evidenced by the small print of N824D seen at the foot of the page from the Mike Sparkman
collection.



Footnote to the Douglas DCs

:

In 1967 Eastern purchased Mackey Airlines, a small airline which flew intra-Florida schedules and
also had routes to the Bahamas, among other places. With the purchase came a fleet of 5 DC-6s.
These were only operated for about eleven months and then disposed of. Incidentally Mackey
resurrected itself later in 1967 as Mackey International Airlines soon after the sale of the original
line to Eastern. Eastern also leased a half dozen Douglas DC-6B's at the end of the 1950s from
non-scheduled carrier Trans American Airlines. They were used on Coach/Shuttle services until
1962.