Colonial Airlines Douglas DC-4 NC93266 (c/n 10299)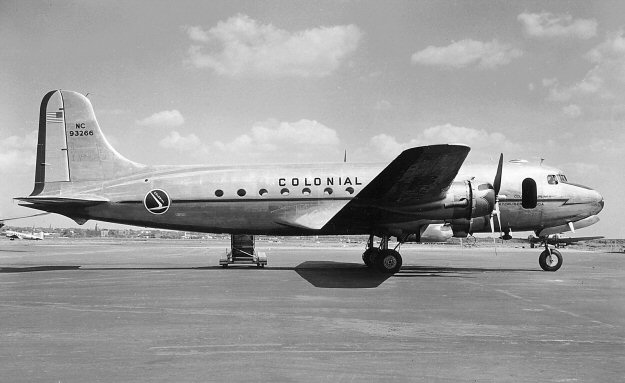 On the original of this print (acquired from Colonial in 1949) the previous identity of this
aircraft (YV-AHU) can be clearly seen on the fin. It was converted from a C-54A-5-DC
(42-72194) and sold to LAV in 1946. It didn't stay long, and Colonial picked it up in 1947
and named it "Skycruiser Bermuda". It was, in fact, used on the Washington D.C. to
Bermuda route. Seen below in the rather rough color slide from the Mike Sparkman coll-
ection in sister ship N93267 (c/n 7476) an ex US Navy R5D-1. From approximately 1951 on,
both Eastern and National Airlines vied to take over Colonial. The attraction was the Bermuda
route and, to some extent, the Canadian access to the north. Eastern emerged victorious from
the political infighting (Eisenhower had over-ruled a proposed Eastern-Colonial merger earlier
on) and on 1 June 1956, all of Colonial's routes and assets passed to Eastern, the DC-4s seen
here being among the latter.