Chicago & Southern Air Lines Douglas DC-4 NC54361 (c/n 27250)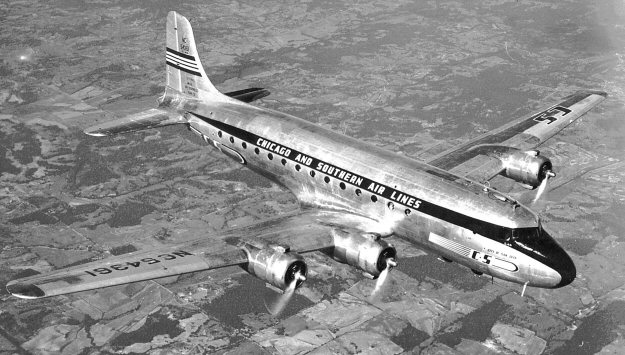 In 1946 Chicago & Southern was awarded an international certificate to operate from both New
Orleans and Houston to San Juan, Puerto Rico and Caracas, Venezuela, with intermediate stops
in Havana, Kingston, Cuidad Trujillo and Aruba. Half a dozen DC-4s were purchased to service
these routes, as well as beef up the standard on the main line route from Chicago to New Orleans.
N54361 was a late model C-54B-20-DO, built for the USAAF as 44-9024 and not delivered
until almost the end of the war. When released from military duties, therefore, it was practically a
brand new, low time machine. C & S named it "City of San Juan' Interestingly, C&S was the
only major airline (to my knowledge) to power their DC-4s with Wright Cyclone R-1820 engines
in lieu of the standard Pratt & Whitney R-2000 power plant. It would be interesting to know if
Aerovias Brasil re-engined this one after they acquired it as PP-AXR. in 1951. It's tough to
tell in my shots of it in its latter guises but it looks as though they may have converted it back to
P&Ws.