Caribbean-Atlantic Airlines Douglas DC-3 N65389 (c/n 19382)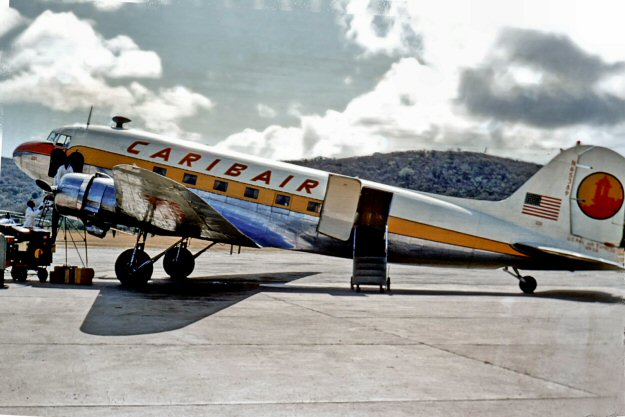 In July 1948 Caribbean-Atlantic Airlines adopted the shorter 'Caribair' as it's operating name. Some
eleven DC-3s (pure DC-3s and converted C-47As) would eventually be used wearing a variety of
liveries. The logo on the rudder by this time had been changed to a stylized rendering of the garita
(guard house) of the Castillo de San Felipe del Morro in San Juan. N28323 (below) was an old
ex-American Airlines DC-3-277C which had gone to Northeast, then Colonial, and finally to Eastern
before being purchased by Caribair. General Manager Jose M. Sierra, who was virtually running the
airline by that time exchanged the Wright Cyclones for Pratt and Whitney Twin Wasps in the interest
of standardization.. Jose, by the way, insisted that Caribair's aircraft be kept spotless as can be seen
in the example above. In the end the poor old thing was put out to pasture (see bottom of the page).
All images in this entry from the William W. Sierra collection.


Caribbean-Atlantic Airlines Douglas DC-3 N28323 (c/n 2253)