Capital Airlines Douglas DC-4 NC91069 (c/n 10363)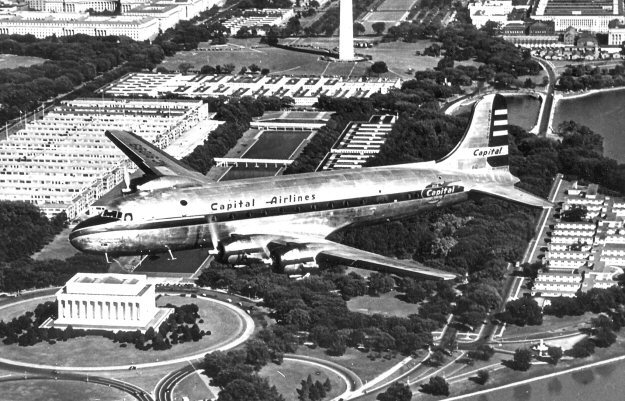 Most Capital Airlines publicity shots were taken over the capital city. This DC-4 is in the first livery
adopted by the airline and is almost identical to that of the Pennsylvania-Central markings. The nice
shot below, also from Capital, shows the same machine circa 1951, in the revised livery (most notable
change was the emblem) in almost the same area of air space. It was carrying the name "Capitaliner
Youngstown". Shortly after PCA was renamed Capital Airlines the company commenced the first cut
rate "coach class" service to be introduced in the United States by offering an off peak hours fare of
$33.00 from New York to Chicago. DC-4s were used on these "

Nighthawk

" services. It was to be
some four years later before other airlines responded with their own coach fares (lowering the price again
by a small margin). This DC-4 was destroyed in an accident whilst operating for a small charter outfit
known as Mideastern Airways in 1970.