Braniff International Airways Douglas DC-8 N1803 (c/n 45895)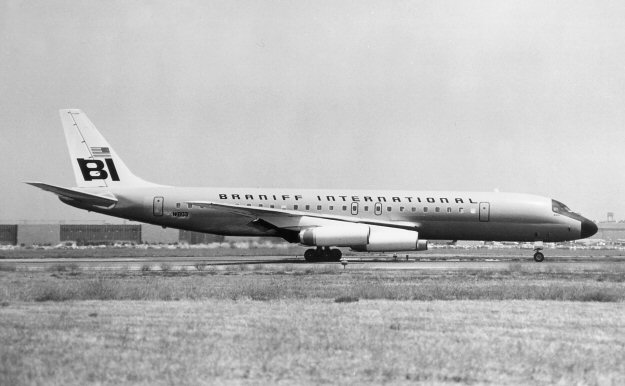 In July of 1966, the Civil Aeronautics Board approved a plan for Braniff Airways to acquire Panagra
(Pan American Grace Airways and President Lyndon Johnson allowed the merger to proceed. The
mererger and integration of Panagra's operations was completed on February 1, 1967. Braniff
acquired Panagra's fleet including DC-7's, DC-8-31's and 55F's, as well as purchase orders for five
long- range intercontinental McDonnell Douglas DC-8-62 aircraft, the first of which, N1803 is seen
above. Initially flown with Panagra markings, the integrated fleet was soon repainted in Lawrence's
'Flying Colors', several new hues of which were introduced in the late 1960s. In deference to the
absorbed airline's livery, several of the DC-8s were painted in 'Panagra' green (as in the above case)
or yellow.



Footnote on Braniff Airways:



Years of accumulated corporate debt coupled with deregulation of the aviation industry, economic recession,
and market over-expansion spelled Braniff's doom in the Eighties. The company of "Flying Colors" filed
Chapter 11 bankruptcy on June 1, 1982. It resumed operations in 1984 with a new lean look and
competitive low-fare approach. Employees were enthusiastic and the public supportive. Braniff briefly
posted profits but success proved short-lived. They again filed bankruptcy in the Fall of 1989. The company's
final incarnation, primarily a charter service, lasted from 1991 to 1992.