American Airlines Boeing 757-223 N656AA (c/n 24614)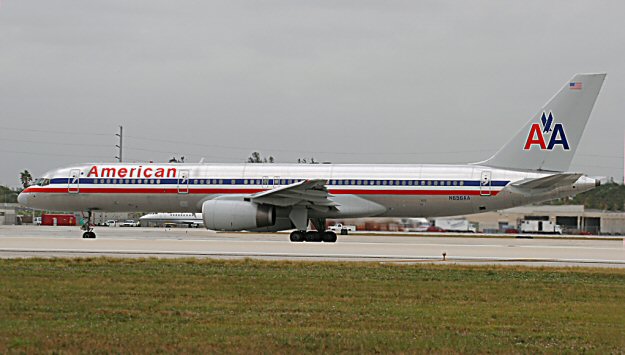 In 1978 Boeing announced the development of three new airliners. They were the 757, the 767
and the 777. First into production was the wide bodied 767. Five months later, design on the
narrower, 727-replacement, model 757 was commenced. Extensively commonality between the
757 and 767 (and to some extent the 777) resulted in captains who were trained on one type being
qualified to fly the other without extensive re-training. The glass cockpits were virtually the same.
First flight of the 757 took place in February 1982, although American did not order them until the
early 1990s, holding on to their trusty 727s until then. N656AA was delivered at the end of 1991.
Note: Still no white top, although the tail surfaces and engine nacelles are now painted grey (haven't
been able to find out the reason for this). It is seen here at Miami International in November 2005
(just before this page was uploaded, actually) in this excellent shot by Reid Antonacchio. In 2001
American boosted its fleet of 757s when it took over those operated by TWA when that carrier
was absorbed.