ZK-TEC Lockheed L-188C Electra (c/n 2011)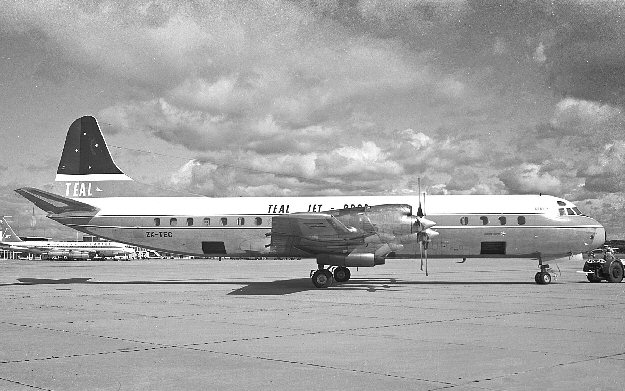 Here's a nice Greg Banfield shot of the ill-fated ZK-TEC, taken at Mascot on 14 June 1964. It
was the third of TEAL's Electras, and named

'Akaroa'.

. ZK-TEC crashed on 27 March 1965
during a training flight at Whenapai. The following is an account of the circumstances from an
report published in New Zealand:
"The airline had done a maneuver many times wherein the Electra, flying at precisely 140 kts
could be flown over the runway threshold, then throttled back to idle, wherein it would drop
almost vertically, and then land on the runway. Since this would never be done on a passenger
flight; the reason for the procedure remains a mystery. On board on 27 March 1965 were a
captain, a check captain, a flight engineer, a navigator, and the airline's industrial personnel
officer, and emergency procedures officer standing behind them. As Akaroa's speed
dropped below 140 knots, the aeroplane landed very heavily, collapsing the undercarriage;
and Akaroa shed wings, engines, tailplane, and tail as she skidded off the runway and across
the grass towards the control tower. Somehow, the two standing officers stayed standing,
the fire extinguishers were turned on, and everyone was evacuated out the cockpit windows,
with one man burning his hand on the escape rope. TEAL salvaged what they could from the
wreck, and the remains were quickly pushed into a gully behind the NAC hangars before the
public saw it. The crash took place in the early hours of the morning. This training procedure
was quickly deleted from TEAL's manuals . TEAL purchased a replacement Electra from
Qantas (ZK-CLX) after it changed its name to Air New Zealand the following March.".