ZK-BKD Douglas DC-3C-G202A (c/n 13531)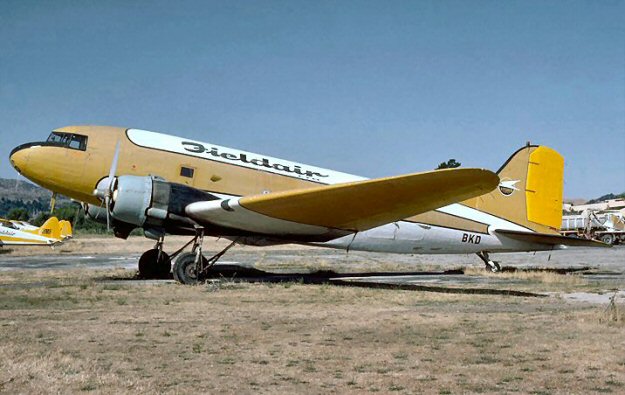 This was the former VH-ANU, imported into New Zealand in June 27, 1955 for NZNAC.
It was named

'Kotare'

. In October 1961 it was sold to The Mt Cook and Southern Lakes
Tourist Company being the first of three DC-3s owned by the company. When the DC-3's
were phased out in favour of the HS748, -BKD went back to NAC (July 3, 1970), but was
sold on to Fieldair almost immediately, and was the first DC-3 to wear Fieldair titles. Bob
Smith's nice shot above shows it as an aerial argicultural topdresser. After being retired on
23 January 1983 the aircraft was stored at Palmerston North. Acquired for a local museum,
it was later moved to Rotorua for a proposed museum there, and stored on land opposite the
airport. The museum did not come to pass (Hamish Ross, the owner having been killed in a
topdressing accident), and the aircraft was subsequently transported to Gisborne where it now
serves as decoration for the "Smash Palace" wine bar.