VH-UZU Cessna C-37 Airmaster (c/n 357)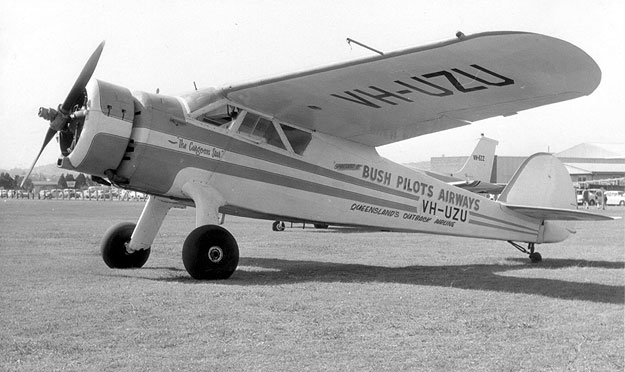 The C-37 Cessna was an advanced version of the earlier C-34. (For an example of this see
VH-UYG). It was introduced in 1937 (hence the C-37). Power was supplied by a 145 hp
Warner Super Scarab engine. The above shot is from the Geoff Goodall collection and was
taken at Archerfield, Brisbane, in 1969. This aircraft was still active into the 21st century.
Geoff Goodall adds the following fascinating details:
"It carries the name 'The Cargoon Star', named after a cattle station 'way
inland from Charters Towers, Qld. A medical evacuation from this
property in 1951 was part of the formation of Bush Pilots Airways.
When -UZU flew in the air race in 1970 it was sponsored by BPAW
hence the titles and name on this photograph. Bushies had, in fact, used
-UZU in the 50s while owned by one of their pilots, Frank Roche"..


For more on this go to


http://

www.craigmostyn.com.au/History/ Bush%20Pilot%20Airways/pilots.html



However, this aircraft also spent much of its early life with MacRobertson Miller Aviation, and historian
Fred Niven fills in the following historical details:

"On 9/6/37, U.S. Dept. of Commerce Export CofA E2780 was issued.

Purchased new by M.M.A.

Imported via Airflite Ltd.,
Sydney in 1937; the 1st Cessna imported into Australia.

Test-flown at Parafield, SA 28/8/37.

Registered VH-UZU to
MacRobertson Miller Aviation Co. Ltd. 2/9/37 (CoR 661) (CofA 618).

It was painted pale-yellow, with the MacRobertson Miller
Aviation Co. logo in navy-blue.

It was used on the regular Monday service Adelaide-Whyalla.

As of 26/7/38, it had flown
451 hours 50 mins.

Flown Adelaide to Perth by Cyril Kleinig 19/12/39, as a replacement aircraft for D.H.84 VH-URX, which
had been impressed into the RAAF.

M.M.A. applied to have the aircraft added to their operating licence during 10/40.
As of 21/11/40, it had flown 961 hours.

It was damaged 3/12/40, in a forced-landing, some 16km north of Carnarvon, while
operating Carnarvon-Perth, due fuel exhaustion (pilot C. Browne).

It was rebuilt, repairing extensive damage to its propeller,
engine mounts, landing gear, front fuselage & minor damage to its wings & engine cowlings.

On 23/1/42, it was dispatched
to the Kimberleys, following the crash-landing of L-10-A VH-ABV; to assist with salvage operations.

With the RAAF apparently
attempting to impress the aircraft. M.M.A. wrote to the Director General of Civil Aviation 11/4/42.

They advised that they were
still operating their northern service at least twice weekly & that the Cessna was definitely required as a reserve aircraft for that
service, for which the main usage was military traffic.

It was forced-landed around 1700 hours 28/5/42, 40km south of Dongara,
WA, due to engine failure (pilot Jimmy Woods).

It was shown on the M.M.A. Depreciation Schedule 1943/4 as having a value of
£357, as of 1/7/43 & £268 as of 1/7/44.

Struck-Off-Register 8/1/48.

Its CoR was renewed, to M.M.A., 27/9/50.

Sold to Francis
G. Roche, South Yarra, Vic, 28/9/50.

During 1953, it was slightly damaged when it struck telephone lines at Einasleigh, Qld.
Sold to J.G. Schultz, Hughenden, Qld., 15/4/54.

On 12/5/60 it was withdrawn-from-service & Struck-Off-Register.
Sold to R.W. Rooke, Nebo, Qld, 8/63 & J.F. Webster, Toowoomba, Qld, 31/12/63.

On 3/10/69, it took part in the Warana Air Race,
but was damaged 2 days later.

Struck-Off-Register 11/5/70, although its CofA was renewed 21/6/71.

It had various other owners
before being sold to Ray T. Goulding of White Hills, near Bendigo, Vic. 7/4/88.

Returned-To-Register 7/4/88.

He restored it to flying
status, in a rebuild, which took 7 years.

It was repainted in the original M.M.A. color-scheme, except that the lettering was in scarlet,
rather than navy-blue."

The photo below is from the Horrie Miller collection (via the NLA) and shows the Cessna when operated
by M.M.A., circa 1942.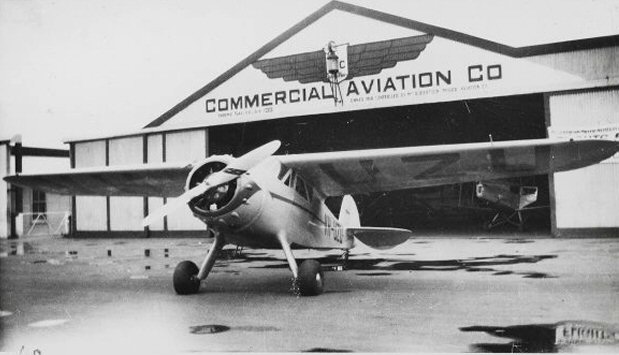 Martyn Covey took the a contemporary shot of this gorgeous machine below at an air show at Boort,
Victoria in May 2009.