VH-UFV de Havilland D.H 60 Moth (c/n 1A)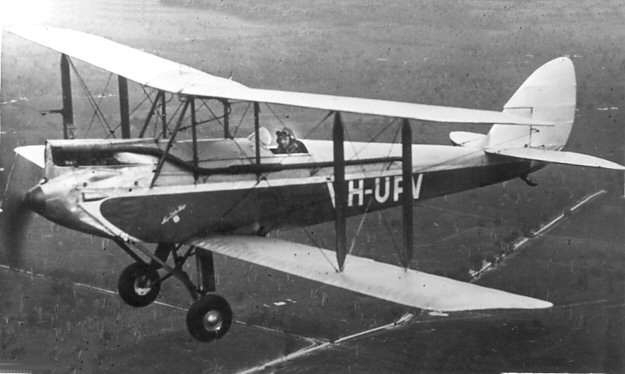 This was the first D.H. 60 Moth assembled in Australia from parts supplied out of Stag Lane.
Assembly was performed at the South Melbourne works of de Havilland Aircraft Pty. Ltd.,.
the Australian subsidiary of the parent company. At the foot of this entry is a poor photo
gleaned (by Graeme Parsons) from the Sydney Morning Herald for 4 June 1927 showing
the Moth in its original G-AUFV markings when it was in operation by the Australian
Aero Club (NSW Section). The caption for this image stated "First Australian-built Moth
Aeroplane. The machine, which arrived yesterday, will be taken over by the Aero Club at
the aerodrome to-day". G-AUFV was originally built with a 80 hp Cirrus Mk II engine,
although the RACNSW installed a Gipsy I in 1939 (making it, in theory, a D.H.60G). The
photo immediately below, from the State Library of New South Wales collection, shows it
in its original form, (probably, although not clearly, also as G-AUFV). This Moth was
mobilized into the RAAF in August of 1940 as A7-112, but demobbed a month later as
being unserviceable. The aircraft equivalent, I suppose, of being 4F! It was struck off the
register in 1947 following an accident the previous year. The fuselages of -AAQ and -UFV
lay in the back of a farm hangar at Jerilderie NSW for many years while owned by Dr Tony
Fisher of Sydney. Geoff Goodall took a shot (below) of the remains at Jerilderie in Nov 1969.
The two wrecks were then sold to Jim Starr who restored -UFV and had it flying again by the
end of 1994. It is still registered to Jim at Walbundrie, NSW.