VH-AAQ de Havilland D.H.60G Gipsy Moth (c/n 878)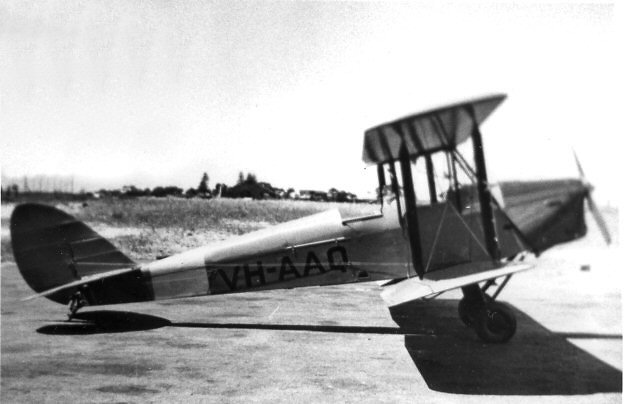 VH-AAQ was an aircraft rebuilt by the Aero Club of NSW at Mascot during the war when
acquiring replacement aircraft required desperate measures. It was based on the wreck of
Moth VH-UHQ which was badly burnt in a hangar fire at Wagga 10.12.39. The rebuilt air-
craft was designated a D.H.60GIII Moth Major (with c/n 1) and was test flown on 14 Dec.
1943. It continued to fly with the RACNSW for almost exactly two years until 16 Dec 1945
when it spun in near Sydney's Long Bay gaol, killing the lady pilot. At the foot of the page
is a photo which appeared in the Hobart Mercury for 18 December 1945 showing the wreck-
age The Sydney Morning Herald of 11 December 1945 contained the story in which it stated
that the pilot was Miss Betty Faux and that the aircraft had spun in between Prince Henry
Hospital and Long Bay Gaol. A nurse from the hospital rushed to her aid but could not
save Miss Faux's life. Miss Faux was rated as an experienced pilot. The fuselage of -AAQ,
along with that of -UFV lay in the back of a farm hangar at Jerilderie, NSW for many years
while owned by Dr. Tony Fisher of Sydney who also kept his Ryan STM VH-CXR along with
a Mustang A68-104 at the farm strip. Aviation historian Geoff Goodall advises that, at one
stage in the 1960s, no less than two ex-RAAF Mustangs and three Ryans were flying from this
farm which was owned by Val Chapman! Evidently Dr. Fisher commuted to Sydney in those
days in his Lockheed 12A VH-ASV. Below is a shot by Geoff of the remains of -AAQ at
Jerilderie in November 1969. Note Mustang canopy sitting on the rear fuselage of -AAQ.
Anyway, the remains of both -AAQ and -UFV were sold from Jerilderie to Jim Starr of
Walbundrie, NSW somewhere around 1978, and while -UFV was restored in 1994, -AAQ
(or what's left of it) has remained in storage so far as is known.