VH-UFF De Havilland DH 89 Dragon Rapide (c/n 6270)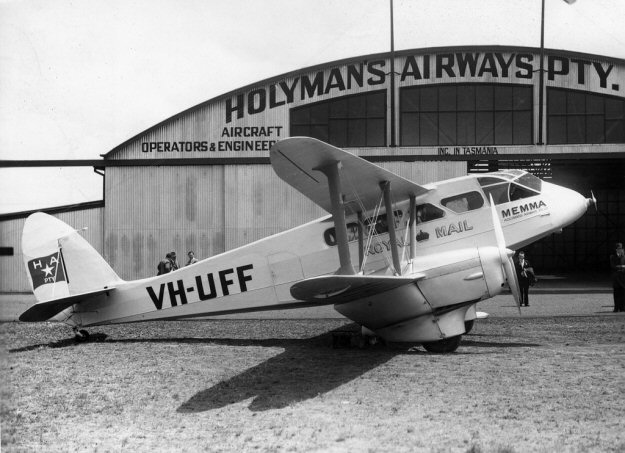 The gorgeous photo above of Holyman's Airways

'Memma'

comes from the Margaret Campbell
collection, via the archives of the Civil Aviation Historical Society. This Rapide had originally been
imported in July of 1935 for survey duties with the RAAF and was serialed A3-1. It was only in
military roundels for five months before being sold on the civilian market in December 1935 to
Holymans Airways as VH-UFF 'Memma". In November 1936 it passed to Australian National
Airways when that company took over Holymans. It was sold to Airlines of Australia Ltd in 1938,
retaining the same name. In July 1940 it joined the RAAF again, this time as A33-3. It was re-
civlianized in November 1943 for Guinea Airways. In 1947 it went to Airlines(WA) Ltd before
being sold to aircraft dealers Brown & Dureau Ltd of Melbourne in October 1948 for aerial photo-
graphic survey duties. My shot below was taken at Essendon Airport in 1954. It was finally
exported to New Caledonia in 1956, becoming F-OAVG for Transpac. The humid jungle of that
island took a terrible toll on the old lady and it was only operated for a year, before being retired
on 2 February 1957 at Noumea-Magenta and providing parts for another Transpac D.H.89, F-OATC.
At the foot of the page are a couple of pictures from the Geoff Goodall collection showing F-OATC
and the remains of F-OAVG at Noumea in 1957.
.