VH-UTJ de Havilland D.H.90 Dragonfly (c/n 7562)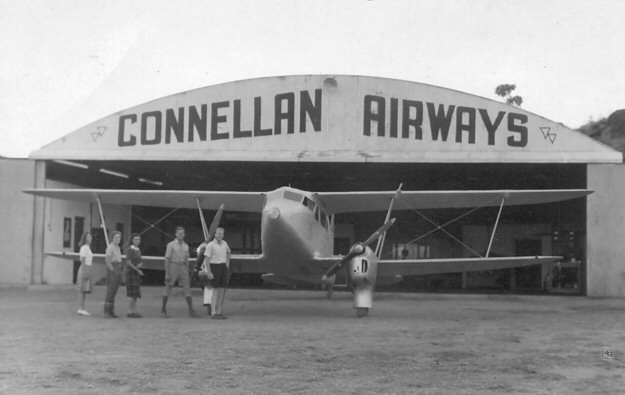 VH-UTJ had originally been imported in 1938 for North Western Airlines Ltd. of Moree, NSW.
It was acquired by Qantas in 1940 and sold to Eddie Connellan in 1946. As I indicated in my
caption for VH-UXS, the Dragonfly was not exactly a robust machine. Nevertheless Connellan
used it on his harsh inter-station runs in the late 1940s and early 1950s. None of the images I
have been able to glean of this aircraft are exactly brilliant. The photo above was acquired from
Connellan Airways in 1951. Immediately below are two shots from the Geoff Goodall collection.
The upper one illustrates the aircraft in camouflage when with Qantas, circa 1942, while in the
lower image it is seen in a typical station environment in the 1950s. Finally aviation and movie
buff Howard Eastcott reminds me that it was -UTJ which appears in the film "A Town Like Alice",
when Jean Paget goes looking for Joe Harman in the outback. Howard pulled off a still from
that movie via YouTube (which I think is extremely clever) and the results are at the foot of the
page. Anyway, VH-UTJ met its end when it was destroyed by fire at Tennant Creek, NT in
1955.