VH-UXS de Havilland D.H.90 Dragonfly (c/n 7546)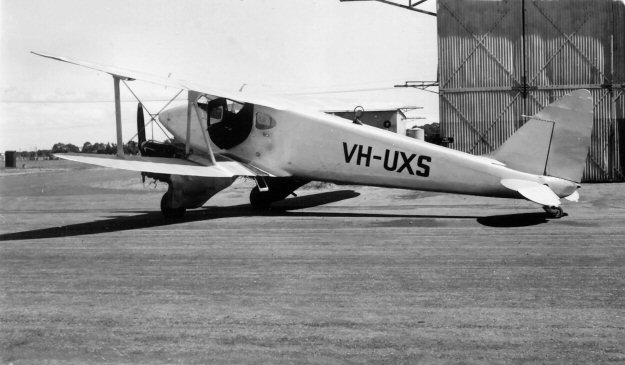 The D.H. Dragonfly looked, and in fact was, a very delicate aircraft. That is to say it wasn't
too robust! Nevertheless, a couple of airlines did operate them. Connellan, for one, in Australia.
It appears as if every one was different. Some had a tremendous tendency to ground loop,
whilst others were completely free of that malady (sounds like a trimming problem). In the event,
-UXS must have been "a good one" since I do not believe it ever had a serious mishap in its thirty
years on the VH- register. It spent the war years as A43-1. My shot above was taken at
Moorabbin in 1955, while the image below, by Dave Eyre (via Geoff Goodall), was while the
Dragonfly was flying for Aero Pelican flying training school in September of 1964. This operation
was based on Keith Hilder's private airfield at Pelican, NSW. It later grew into a major commuter
airline flying hourly Newcastle-Sydney services each day with Twin Otters. Soon after Bob's photo
was taken this poor old Dragonfly was sold to a Darwin owner, where maintenance problems saw
it abandoned out on the ramp at Darwin, where the wooden construction quickly succumbed to the
harsh tropic weather.