VH-UPB Saunders Roe A.21 Windhover (c/n A21/1)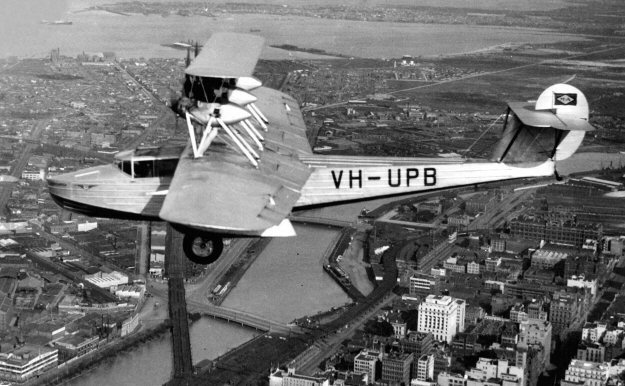 This very nice photo comes from the Wally Civitico collection who obtained it from the archives of
Exxon Mobil. It depicts the tri-motored amphibian (3 X 105 hp Gipsy III) over Melbourne en route
to Tasmania while being operated by Matthews Aviation Pty Ltd on their airmail service from Essen-
don to Launceston via King Island. Vaccum-Mobil Oil products were obviously used. In February
1932 registration of the craft went to T.P. & R.E. Manifold of Camperdown, Victoria, and was then
restored to Matthews in December of that year. The interesting shot immediately below comes from
Keith Webb who discovered it in an old album he was perusing, searching for additions to his own
site on historic airfield vehicles. For more on this fascinating subject go to:
http://www.oldcmp.net/dca_1.html
The Windhover had first been destined for Union Airways of New Zealand and given the registration
ZK-ABW . In the event Union Airways decided it didn't meet their requirements and sold it before
delivery, so it went (or was diverted) to Australia instead. The caption on Keith's print indicates that
it came ashore at Skenes Creek, Victoria (just east of Apollo Bay) sometime in 1936, due to a land-
ing in rough sea, whereupon some slight damage had been sustained. The caption doesn't state
whether the landing was forced or not. Now, interestingly, this machine was involved in another
marine accident shortly after that (on 14 May 1936) when it again landed in the sea and then drifted
onto rocks near Currie on King Island. This mishap resulted in it being struck off the register in
January of 1937. Despite its three engines the Windhover was not that robust of a beast and maybe
they shouldn't have been trying to land it in the rather stormy (at most times) waters of Bass Strait?
Seen below is are two more shots of this rare aircraft. This upper one comes from the Civil Aviation
Historical Society's Charles Ohlson collection, while at the foot of the page is a photo from the State
Library of Victoria collection showing it on the rocks on King Island in May 1936.