VH-UNJ Avro 618 Ten (c/n 371)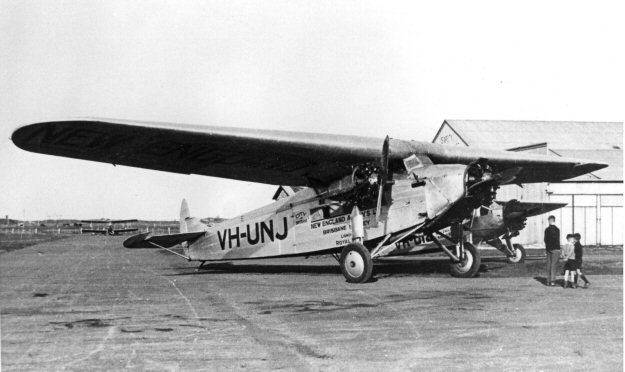 The Avro Ten was the Fokker F.VIIb-3m built under licence. VH-UNJ was imported in February
of 1930 for Queensland Air Navigation Ltd and named

"City of Brisbane"

Image no 3 below
from the Bill Holswich collection, (via Geoff Goodall) shows it in QAN's checkered tail livery at the
opening of Rockhampton's Connors Park Aerodrome on 2 March 1930.

It was sold to New


England Airways in December 1931

,

and in the photo above (also via Goodall) it is in New England
titling. This airline was founded by G.A. Robinson and at the foot of the page is a photo from the
album of Bruce Robinson, (grandson of G.A.), showing G.A.'s son-in-law Sid McLeod and the Avro's
pilot Bill Harmon (in jacket) in the early 1930s when the aircraft was in New England's service. It was
transferred to Airlines of Australia Ltd in 1935., and withdrawn from use in June 1940. Further shots
of this machine appear on the entry for sister aircraft VH-UMH.