VH-UMH Avro 618 Ten (c/n 229)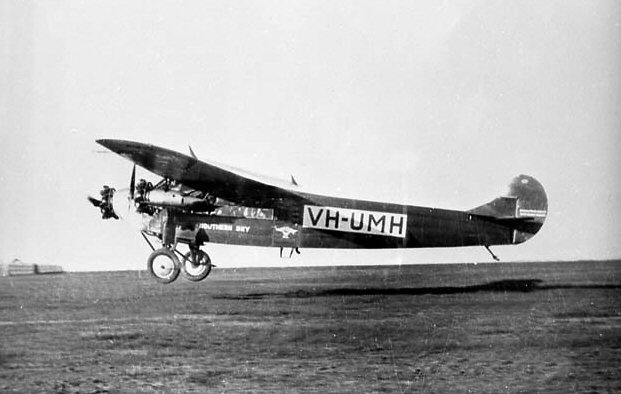 The above shot comes from the A J Jackson Collection at Brooklands Museum and shows the third
of the Avro 618s delivered to the "first" Australian National Airways, which was named 'Southern Sky'.
For more details of this fleet see VH-UMG. VH-UMH was sold in 1933 to New England Airways
Ltd, a Sydney concern, who renamed it 'City of Grafton'. Seen below are a series of shots from the
collection of Bruce Robinson of Deception Bay, whose grandfather founded New England Airways.
Two of them show the aircraft in company with sister aircraft VH-UNJ. Finally, at the foot of the page
is a very uncontrasty, although interesting shot of the Avro after Lawrence Wackett had designed a tail
wheel and some rather sorry looking mainwheel spats for it. It was found that the tail skid was constantly
snagging dog spikes left in sleepers in the front of the hangars at Mascot. VH-UMH crashed on landing
at Newcastle of 28 Nov 1935, was not repaired and was written off. I am not sure, but suspect that the
third image in this set from Bruce may show the aircraft after this accident.