VH-ULX Koolhoven FK.41 (c/n 4103)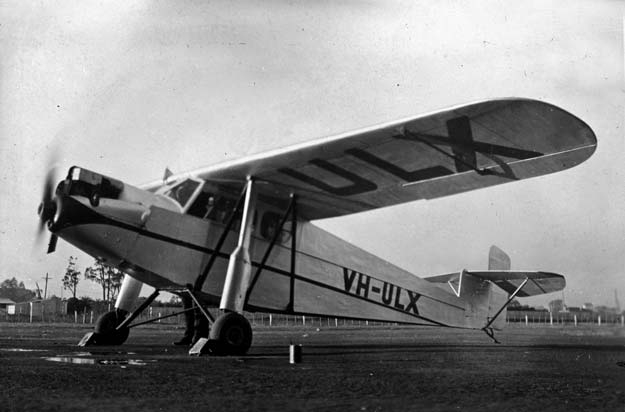 The Koolhoven series of lightplanes could be considered to be the 1920s equivalent of a
Fairchild F24 or perhaps a latter day Cessna 172, although it was somewhat under powered
with a 95 hp Cirrus III. The resemblance to the Desoutter (see VH-UPR) is not accidental.
The Desoutter Company was formed in 1929 to produce the FK.41 under licence in the UK.
Some 40 or so were built . This was one of them, and was the former G-AALI. Desoutter
then went on to build more modified FK.41s under the Desoutter name. VH-ULX was import-
ed into Australia in 1929 for a Mrs. F.M. Terry of Sydney. It had several other private owners,
(and accidents), and finally came to grief in a crash at Condobolin, NSW on 3 March 1938.
Several of these owners seemed to have a propensity for landing it on beaches. At the foot of
the page is a clipping from the Brisbane Courier Mail for 31 December 1935 showing a mishap
which occurred at Southport, Qld.. (Interesting that the repairs were estimated at 50 quid - a
sum which today might get you a reasonable meal at one of London's better restaurants!). A
year later, on Christmas Eve 1936 this aircraft was again damaged when it overturned landing
on a beach, this time at Brunswick Heads, NSW. The photo above is from the A J Jackson
Collection at Brooklands Museum. while the image below is from the John Oxley Library, State
Library of Queensland collection, taken outside Qantas' hangar at Archerfield circa 1938.
Following that is a photo from the Bruce Robinson collection showing the Koolhoven probably
in the mid-1930s by which time it had received a totally different paint scheme. .