VH-ULB de Havilland D.H.60G Gipsy Moth (c/n 996)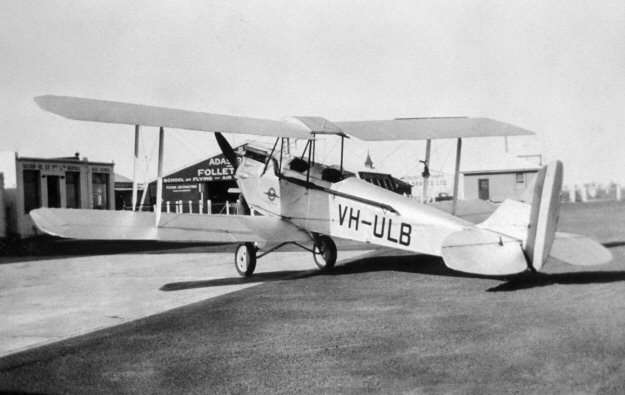 Oddly, photographs of this Gipsy Moth are rare, and I am indebted to the CAHS for this repro-
duction from the Terry Martin collection. VH-ULB was imported in 1929 by L.C.L. Murray
in July 1929 from India where it had been VT-AAR. (Murray later had the Dessouter VH-UPS).
The Moth was then sold almost immediately to the Australian Aero Club (Vic Section). In 1929
it participated in the East-West Centenary Air Race from Sydney to Perth and is seen in a line-up
of aeroplanes in this race in the photo at the foot of the page of VH-UJU beareing the name '

Swan

'.
The cropped image immediarely below, courtesy of Kevin OReilly was taken by Peter Bennett (son
of Jack Bennett who was chief of Ansett`s flying school before the fire) at Essendon in 1938.. Many
of these Moths had multiple prangs. VH-ULB was no exception.Photograph # 3 below, from the
Charles Ohlson collection (via CAHS) shows the result of a crash at Parafield on 22 March 1930.
On 12 August 1931, a certain A. Martin of the Aero Club was practicing side slips in the vicinity of
Essendon Aerodrome and managed to slip it right into a fence on the eastern boundary of the field.
The photo at the bottom of the page came from an edition of The Argus for the following day. The
aircraft was repaired yet again, finally winding up in the Royal Aero Club of Victoria's fleet and was
impressed into service with the RAAF in 1940 becoming A7-98. It did not survive the war.