G-AUJU de Havilland D.H.60G Gipsy Moth (c/n 836)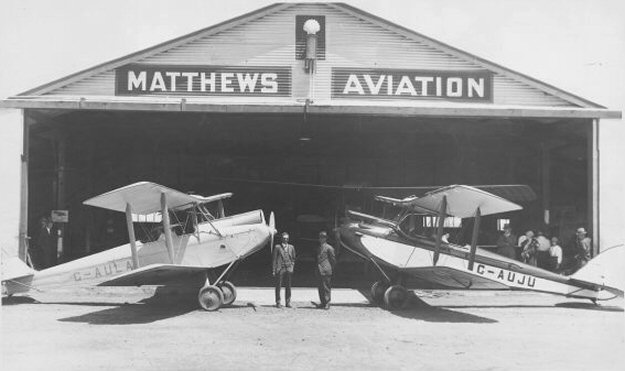 The shot above is from the George Matthews collection and depicts "De Havilland biplanes parked
inside and in front of Matthews Aviation hangar at Essendon in the late 1920s".. This Moth was
originally registered to E.E. Davies of Swan Hill in February 1929. By August 1930 it had become
VH-UJU and the two rough images following immediately below were gleaned from newspapers
by Graeme Parsons. For the upper, from the Adelaide Advertiser of 25 March 1935, the caption
reads 'Aero club colours being painted on one of the Gypsy Moths at Parafield yesterday by Mr.
B W Monks in preparation for today's aerial 'At Home' which will be held in conjunction with
Empire Air Day.'. The lower clipping is from a much earlier Brisbane Courier of 1 October 1929
stating that the Moth was being flown in the East-West Centenary Air Race from Sydney to Perth,
by pilot Edgar Davies. The Sydney Morning Herald of 8 October 1929 also featured a photo of
a line up of race machines at Kimba, SA (reproduced below). VH-UJU is prominent, and shows
clearly the name

'Swan

' on the nose. In February 1935 it was acquired by the Aero Club of SA,
and despite a crash on Kangaroo Island in May of 1936, went on to be impressed into the RAAF
in July 1940 as A7-95. A photo of this crash, at the foot of the page, was gleaned from the Adelaide
Advertiser for 20 May 1936. The aircraft became Instructional Moth Airframe # 13 and, after
the war was 'RTP'd in 1955.