VH-UKP Westland Widgeon III (c/n WA.1774)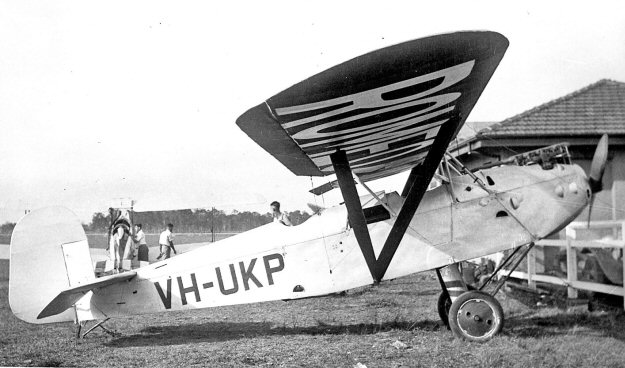 First registered in April 1929 to E.G. Eager and Sons of Brisbane, it was later owned and flown by
J.A. Marsh in the 1936 Brisbane to Adelaide air race, which was won by the late Sir Reginald Ansett
in his Porterfield 35-70 VH-UVH. The diminutive fin of the Widgeon can be clearly seen in the above
photo from the Frank Walters collection taken at Archerfield. The inscription

'Romeo'

appears under
the starboard wing. In the photo below from the Civil Aviation Historical Society of South Australia
it is seen with its Race No 8 and 'Juliet' under the port. (Not sure of the significance of all this). -UKP
can also be seen in a newspaper photograph under my entry for VH-UTG in a line up of aircraft awai-
ting the start of the race, whilst another earlier Brisbane shot of -UKP is seen at the foot of the page
from the John Oxley Library, State Library of Queensland. Anyway, Marsh sold the Widgeon in
April 1937 to J.E. Price of Geelong, who was possibly a broker, since a month later it was registered
again to A. Carter of Werribee, Victoria. It was stricken from the register in 1938.