VH-UTG British Klemm BK.1 Eagle II (c/n 113)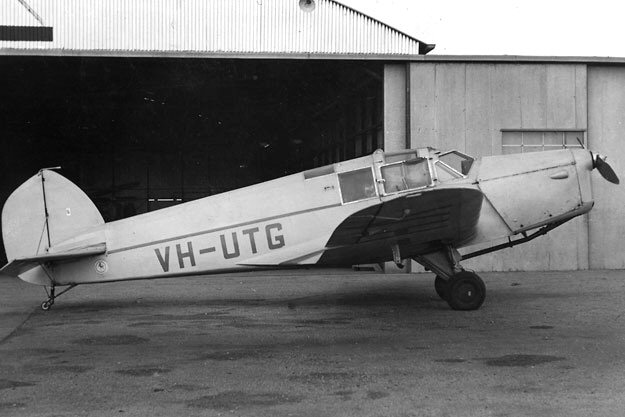 I have gleaned a plethora of shots of this Eagle. Above and No. 3 are via the Civil Aviation
Historical Society. In the lower photo the aircraft is seen wearing its Race Number when it
took part in the Centenary Air Race between Brisbane and Adelaide in December of 1936.
Frank Walters' shot immediately below shows it at Bankstown just prior to having its race
number 35 applied to the white disk. VH-UTG was originally imported in April 1935 for
dealer Adastra Airways of Mascot. It spent time in South Australia, however, and was the
subject of a couple of belly landings. One of these occurred at Oodnadatta, SA on 13 July
1935 and was captured on film by the father of Robert Milburn, who supplies image # 4 below.
The Eagle had a similar mishap at Beltana, SA on 7 October 1935. Perhaps the pilot wasn't
used to a retractable undercarriage? Anyway, it was sold to R.T. Vincent of Geelong in
May of 1936, although flown in the race by aviation pioneer C.D. Pratt. . In 1940 it went to
Aircrafts Pty Ltd in Brisbane and then to Queensland Flying Service in 1946. In 1947 it was
sold to A.C. Cameron and D. Scott of Tenterfield, NSW, and by April of 1950 was owned
by East-West Airlines (as a trainer or company hack?) In their service, it crashed during a
forced landing 10 miles south of Moree, NSW on 28 July 1950. The fifth photo is a rough
print from the Roger McDonald collection and was taken at Lismore, NSW, as late as 1948.
Finally, the clipping at the foot of the page is from the Brisbane Courier Mail for 17 Dec 1936,
and shows -UTG in a line-up of aeroplanes awaiting starter's orders in the above mentioned
air race, in which a total of 31 aircraft took part.