G-AUEZ ANEC III (Lasco Lascowl) (c/n 1)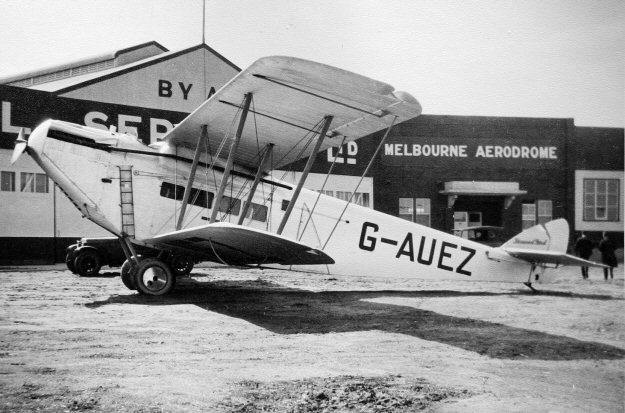 When the original Air Navigation & Engineering Company (of Addlestone, England) Mark III
was 'stretched' by the Larkin Aircraft Supply Co Ltd of Melbourne it became known as the
Lasco Lascowl. Only three of these machines were constructed and for a more complete history
of this interesting type see my entry under VH-UGF. The rare shot above is from the Charles
Pratt collection (via Kevin OReilly) and shows -UEZ with its original name of 'Diamond Bird'.
The photo below, from Geoff Goodall's collection shows the ugly biplane now re-registered as
VH-UEZ in company with -UGF at the aerodrome at Coode Island, Melbourne on 22 May 1930.
The machines were about to depart on the Mackay Expedition to map and explore central Australia.
The third image is from the Daryl Mackenzie collection showing -UEZ airborne it following said
departure. Now, here's the mystery: Photo No 4 from the Civil Aviation Historical Society
archives shows the aircraft still as G-AUEZ, in a 'reverse' livery and carrying the name

'Satin Bird

'
(see tail enlargement). Was this name applied first before renaming it

'Diamond Bird'

and giving
the

'Satin Bird'

name to -UFC later? I have not been able to piece together the time line clarifying
the sequence of either the paint job or the name change on -UEZ. (The remaining ANEC III was
G-AUGF,

'Love Bird'

). VH-UEZ's CofA lapsed in June 1932 right after the expedition was
completed and it was not renewed. .