VH-UGF ANEC III (Lasco Lascowl) (c/n 3)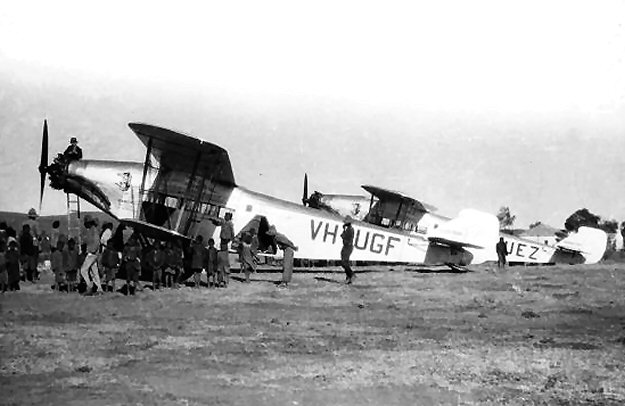 This interesting image is from the E.A. Crome collection, courtesy of the National Library of' Australia.
Only three of these large six seat single engined transports were constructed by Air Navigation and
Engineering Company of Addlestone, Surrey in 1926. They had been ordered by Larkin Aircraft
Supply Co Ltd of Melbourne following a requirement for a passenger and mail carrier for their Aust-
ralian Aerial Services operating division. Originally to have been built by Handasyde Aircraft as the
H.2, the contract was let to ANEC since Handasyde had no factory of their own. Initially power was
provided by a Rolls Royce Eagle VIII engine, but these were replaced in the two remaining machines
in 1928 by a more powerful 485 h.p. Armstrong Siddeley Jaguar power plants. At the same time the
aircraft were stretched to accommodate 11 passengers and became known as the Lasco Lascowl (less
cowl?). Two of the three machines, VH-UGF and VH-UEZ are seen in the image above. The third
example was G-AUFC which was only in service for approximately six months before crashing.
VH-UGF was named

'Love Bird'

, -UEZ was

'Diamond Bird'

and the short-lived -UFC was

"Satin




Bird'.

VH-UGF and -UEZ were chartered by the Mackay Aerial Survey Expedition in May 1930
to carry out a 67,000 square mile survey of central Australia. The photograph below, also from the
National Library's E.A. Crome collection shows '

Love Bird

' at Eyre's Rock during that expedition.
The aircraft returned to Melbourne in July 1930 without a mishap each having flown more than 300
hours and were placed into Australian Aerial Services' route from Melbourne to Sydney. VH-UGF
crashed at Temora, NSW on 14 July 1931 and was destroyed in the resultant fire. VH-UEZ's CofA
lapsed in June 1932 and it was not renewed. Following the Eyre's Rock photograph is an extremely
rare shot of

"Love Bird"

as G-AUGF from the Daryl Mackenzie collection, taken at Charlotte
Waters, NT probably shortly after it was registered, in 1927. Finally at the foot of the page is an
'exclusive' newspaper print from the Melbourne Argus of 15 July 1937, the day after its fatal crash
showing -UGF after an earlier mishap on 21 June 1931 at Temora, NSW involving the undercarriage
and wing failure The caption to this photo indicates that the pilot, J.A.S. Geddes and an apprentice,
T.W. Rust were killed, but these deaths, I suspect, were due to the later fatal crash in July, since
the damage, if any, showing in the photo below, blurry though it is, appears minimal. .