G-AUER de Havilland D.H.50A (c/n 116)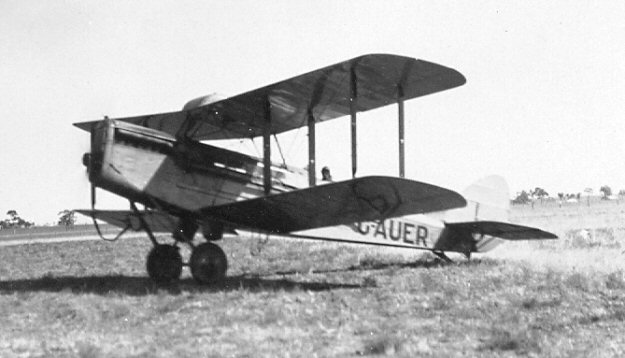 Originally G-EBIW, this D.H.50A was imported in October 1924 as G-AUER for Qantas who
named it

'Hermes'

. It was used for general aviation until 1928 when it was refurbished for use
as the first air ambulance for the Australian Inland Mission (AIM) The photo above is from the
Frank Walters collection and was taken at Longreach in 1924. In the shot below, from my own
collection, it is seen as VH-UER and with a small Maltese Cross under the pilot's cockpit. Photo
No 3 is from the National Library of Australia collection and shows the aircraft as G-AUER at Mt.
Isa in the late 1920s in company with an ambulance of the period. Upon starting service under
contract for the AIM, The Rev. John Flynn, the famous Flying Doctor, renamed it

'Victory'

.*
(Qantas went on to name another D.H.50J, G-AUHI,

'Hermes'

..thus causing much confusion
among latter day historians!). In 1934 -UER was sold to Rockhampton Aerial Services Ltd .
It had a couple (at least) of accidents including a forced landing on a beach 21 miles north of
Bundaberg in May 1934 and another in the sea off Caloundra in December 1935. In the latter,
although the actual landing did not completely destroy the aircraft, the pounding surf did some
three days later, and -UER was stricken from the register on 3 January 1936.

* The clipping at the foot of the page from the 13 September 1928 edition of the Brisbane Courier
submitted by Graeme Parsons, supports its renaming by the Rev. Flynn.