G-AUBZ Airco DH4 (c/n [F2682])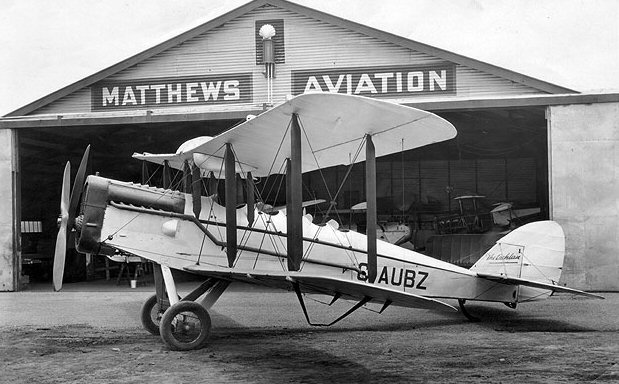 Here's a beautiful shot from the CAHS collection (courtesy Phil Vabre) taken at Essendon,
circa 1928-30. The aircraft was named "The Lachlan" and owned, at that time, by Matthews
Aviation, outside whose hangar it is seen here. First registered in June of 1921, it would have
had its registration changed on or about 31 August 1930 to VH-UBZ. The c/n given above
was, in all probability, its RAF serial number. It was operated by a number of other owners,
all based at Essendon until 1940, after which it was struck off the register. The D.H.4, Geoffrey
de Havilland's fourth design for the Airco concern, was generally regarded as the best day bomber
to see service in WW I. Many, including this one, were civilianized after the 'War to end all Wars'.
As larger and larger engines were fitted, the propellor size kept increasing, necessitating the
lengthening of the undercarriage. This example was powered by a 375 hp (wow) Rolls Royce
Eagle VIII. Andrey Raney of Dallas, Texas points out that it was actually fitted with two props
linked together to form a four bladed propellor in order to obviate using a larger airscrew requiring
lengthening of the undercarriage legs, etc. The photo immediately below, via Geoff Goodall, is
a copy from DCA's CofA page. Below that -UBZ is seen, now as VH- in company with the
D.H.75 Hawk Moth VH-UNW (image courtesy CAHS collection). Finally at the foot of the
page is another CofA shot showing it as the 1930 Aerial Derby Winner.