VH-WWA Republic RC-3 Seabee (c/n 416)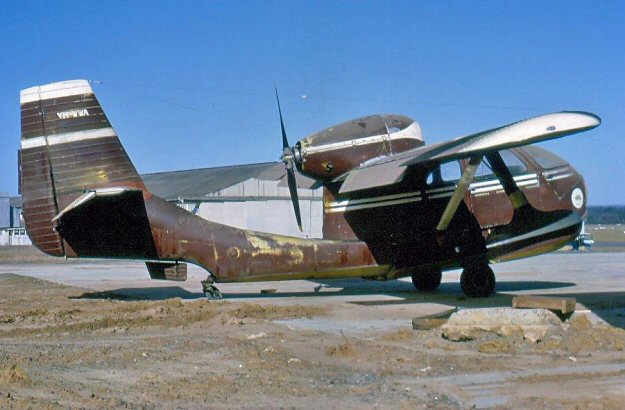 Only four Seabees ever made it to Australia, and only three of those were registered (one was
destroyed in a hangar fire at Bankstown in 1960). VH-WWA had originally been imported in
1954 by World Wide Air Services of Port Moresby, an American company which had a large
scale operation in Papua/New Guinea using Catalinas and various helicopters. While in PNG it
always flew under its US registration N6213K. I have a neg of it as N6213K somewhere and
will print it up and add to this entry (when I can find it). It became VH-WWA in 1959 and was
the first Seabee on the Australian civil register. By 1961 it was with Commodore Aviation at
Port Lincoln, SA and used as a fish spotter. David Eyre's photo above was taken at Bankstown
in July 1964 and Geoff Goodall had sighted it at Moorabbin in May 1963 (below) looking decidedly
dejected in its faded brown & white paint scheme as it was awaiting resale after being traded in on
a Czech Aero 45. Commodore Aviation registered the Aero 45 as VH-WWC as a follow-on from
the Seabee reg. and then used the VH-WW block on subsequent aircraft. In May 1965 the Seabee
finally found a buyer in K. E. Olsen of Camden who reregistered it with his wife's initials as VH-MJO.
Olsen also had the Seabee VH-ECZ. Several owners later the Seabee was struck off the Australian
register in 1992 and went to Pacific Air Services of Honiara, Solomon Islands as H4-HSD. It was
repatriated in 1999 and turned up in North Queensland as VH-WET, although I understand it never
received a full CofA.