VH-WMT DHC-1 Chipmunk T.22 (c/n C1-0245)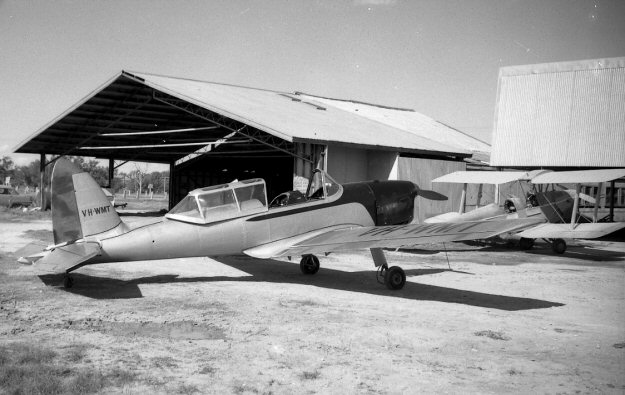 Two shots of VH-WMT from the Geoff Goodall collection taken in 1965. The above at Albury
in March of that year and the lower one at Swan Hill several months later. On the lower image the
"M" individual aircraft letter from its old days as the Royal Aero Club of NSW's VH-RSM is still
visible. This aircraft was formerly WB710 with the RAF and was civilianized in 1956, going to
Ireland as EI-AJB. In 1958 it was exported to Australia for the Royal Aero Club of NSW and
became VH-RSM. When the club sold it off in 1962 it went to J.N. Tulley who re-registered it
in his wife's initials as VH-WMT. In 1966 it was again re-registered as VH-WMG and remained
that way for twenty years. In 1987 it changed hands again and reverted to its original Australian
registration of VH-RSM (the second) under which guise it is still flying (decked out nowadays as
WB710 of course).