VH-WAC (2) Avro 652A Anson 1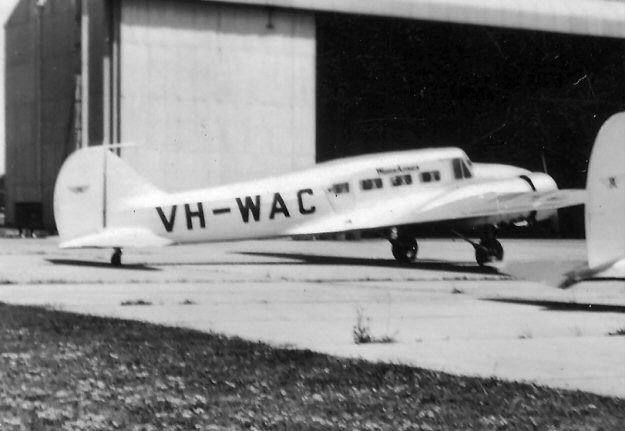 The series of images on this page are all from the Geoff Goodall collection.
As described in the narrative for VH-WAC(1) this Anson was ex MG271, civilianized in 1947,
and was to have been VH-BJY, but requested to be changed by Jimmy Woods to VH-WAA.
In the event, this rego was dis-allowed by DCA and hence it wound up as VH-WAC. It was
named

"The

Islander"

and was operated on the Rottnest Island service from 1948 until 1961.
In 1962 the Ansons were grounded and the service shut down. Jimmy flew his two Ansons out
to friend's farms as playthings for their children.
The above image is an enlargement from the photograph of the two Ansons seen on the entry
for VH-WAB.
Next is a poor, although nostalgic shot of "Woodsy" bringing -WAC in over the fence at Perth's
old Maylands Aerodrome in 1958. It was probably a visit for maintenance because both the
Woods Airways Ansons were based at nearby Guildford Aerodrome.
The third shot shows VH-WAC, now with 1950s style livery, sheltering from the rain just inside
the large ANA hangar at Guildford Airport in 1957.
Next is a 1966 shot taken on the farm at Gwambyginbe WA after being grounded by DCA.
Captain Jimmy Woods had ferried VH-WAC from Perth to "Seabourne", Greenhills via
Gwambygine in the WA wheatbelt on 25 March 1962. This photo shows it 3 years later in
July 1966, starting to fall apart from exposure to weather and small children.
Finally, at the foot of the page is Geoff Goodall's own shot of the remains of VH-WAC on the
farm in of 1971. Some years later (1977) the carcass went to the RAAF Association Aviation
Historical Group at Bateman, Perth, WA for restoration. The nose and cockpit are currently
displayed in the RAAFA Museum at Bull Creek, Perth.