VH-UTW (1) Sikorsky S-58B (c/n 58-898)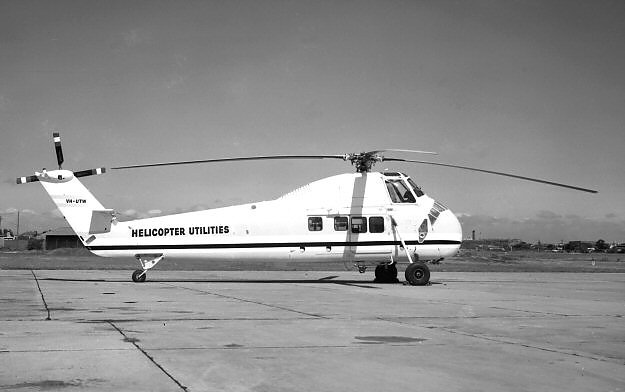 Greg Banfield's photo (above) of this S-58B as VH-UTW (in Helicopter Utilities white, yellow
and black livery) at Mascot on 17 November 1965 is rare in that its identity as such was very
short-lived. Formerly N871 it operated in New Guinea in 1959 as part of World Wide Heli-
copters' large chopper fleet. It was then re-registered VH-WWG briefly in 1960 to World
Wide Air Services Pty Ltd of Port Moresby, but returned to the US later in that year and
reverted to N871. By 1965 it was back in Sydney, assembled by Helicopter Utilities, and
restored to the VH- register again, this time as -UTW. The photo below, also by Greg, shows
it at Mascot in 1965 (sans rotors and tail prop) being prepared to shed its US livery and be
painted into Helicopter Utilities rather unimaginative scheme. On 8 July 1966 it crashed at Kieta,
Bouganville on landing when the main rotor struck an object. The helicopter was written off, and
the pilot, W. Mayo injured. The next year this registration was given to a new Bell 204B.