VH-UTW (2) Bell 204B (c/n 2050)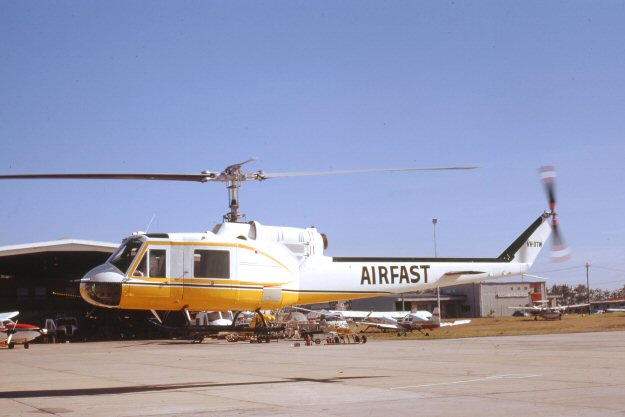 Nice hovering shot of an Airfast Bell 204B by Greg Banfield taken at Mascot in April 1970.
The 204B was basically the civilian version of the military UH-1 Huey of Viet Nam fame.
This one was operating for Helicopter Utilities subsidiary Airfast and used on oil exploration
duties. Shortly after this shot was taken it was sent to Indonesia as part of the start-up fleet
of Airfast in that country, and used in further oil exploration work. (Airfast Indonesia later
expanded its scope and now operates many fixed wing aircraft including MD-82s and Boeing
737s in support of the oil industry). Incidentally, VH-UTW was the subject of an accident
report whilst operating on Australia's first offshore oil rig, the Barracouta Platform in the Bass
Strait, when the tail rotor failed as a result of metal fatigue. Clearly it was repaired as Greg's
shot shows since it became PK-OBA soon afterward. (Some sources report -UTW as being
sold in Malaysia as 9M-ATC but, in the event, this was not taken up and it went to Indonesia).